C.R.E.A.M: Career Fair For More Than Survival
Fri, Oct 13, 2023
@
10:00 am
–
Sat, Oct 14, 2023
@
5:30 pm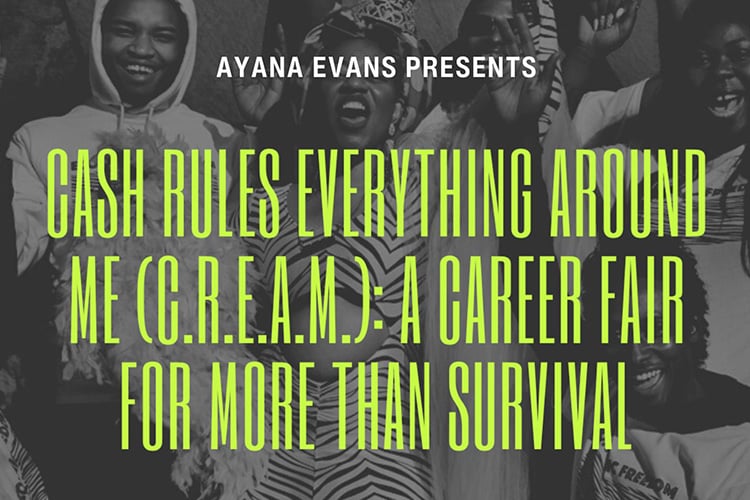 Join us for the second annual C.R.E.A.M. Career Fair, where career fair meets block party on Oct 13th and 14th!
Presented by Weeksville Heritage Center in collaboration with performance artist Ayana Evans, this non-traditional career fair breaks barriers in NYC's arts and music sectors who support a commitment to non-discriminatory hiring. In an effort to confront escalating disparities in employment opportunities and wages, C.R.E.A.M. centers those marginalized by their race, class, sex, gender, sexuality, or the intersections of these identities. While our career fair is completely free and open to all, we strive to create an environment where QTBIPOC (Queer & Trans, Black & Indigenous, People of Color), particularly those who have experienced prior incarceration and/or other systemic challenges, feel especially welcome.
Enjoy free soul food, live DJ beats, and free t-shirts featuring Evans' trademark catsuit print. Demystify creative career building with panel discussions, resume tips, and stress management workshops. Discover job, grant, and internship opportunities from leading institutions including The Center for Performance Research, Weeksville Heritage Center, MoCADA, Creative Time, Studio Museum of Harlem, Recess Arts , Artists Alliance, Strive NYC and Fortune Society.
No suits allowed – it's all about a relaxed, welcoming atmosphere!
---
Partners include: MoCADA Museum, The Studio Museum of Harlem, The Snobette, Recess Art, Artshack, The Fortune Society, The Brooklyn Library, Dia Beacon, Strive NYC, Franklin Furnace Inc., The Center for Performance Research, Artists Alliance Inc, and Die Jim Crow Records. Sponsored by the Jerome Foundation's Artist Fellowship Grant.