Juneteenth Food Festival
Sat, Jun 17, 2023
@
12:00 pm
–
Tue, Jun 20, 2023
@
7:00 pm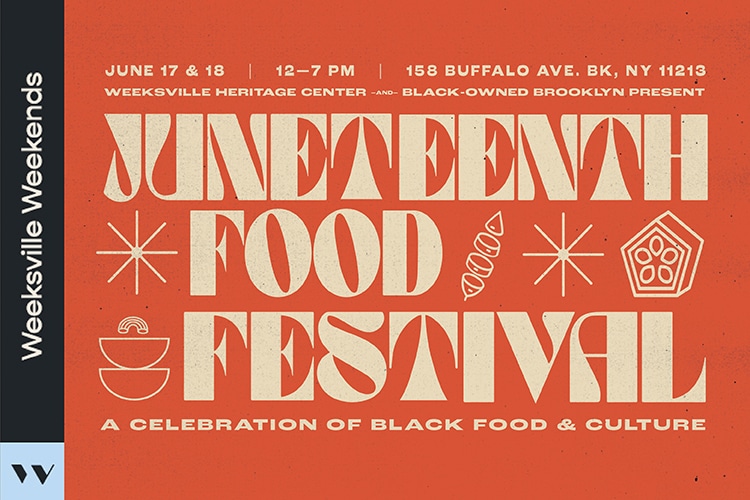 Join Weeksville Heritage Center and Jummy's Picks by Black-Owned Brooklyn for our second annual Juneteenth Food Festival on June 17 and 18, from 12-7 pm.
On June 19, 1865, enslaved Black Texans were finally informed they were free, two years after the signing of the Emancipation Proclamation. This day would come to be commemorated as Emancipation Day, also known as Juneteenth.
Historically, celebrations were many — ceremonial readings, church services, and parades took place far and wide. Of course, food has been a huge part of these celebrations since the holiday was first observed in 1866 and we aim to keep this tradition alive, from Texas to Brooklyn!
This year's festival will feature 29 Black food businesses offering African American fare traditional to the holiday, such as barbecue, fried fish, crab boil, red beans and rice, red drinks and red velvet cake; as well as flavors from regions of Africa and the Caribbean. The event will also feature a small marketplace of apparel, accessories, records and books, all from Black brands.
A centerpiece of this year's festival will be Sunday's (6/18) skywriting demonstration, in collaboration with artist Sandy Williams, which will lay out the original boundaries of the historic Weeksville community and conversations about the legacy of Black freedom in America. Attendees will also be treated to cultural performances, including live sets from DJ Monday Blue, Donwill and DJ Tara (6/17), as well as the Soul Summit DJ collective (6/18). There will also be hands-on art-making activities, resources from community organizations, and so much more! We hope you'll join us to celebrate Black culture, Black history and Black freedom by leaning into joy and leisure.
View a recap of last year's festival here.
We hope you'll join us to celebrate Black culture, Black history and Black freedom by leaning into joy and leisure.
RSVP is not required to attend, but your RSVP helps us plan for the event by letting us know how many people to expect!
Featuring: Black Castle by Black Nile, The Crabby Shack, Dept. of Culture, Greedi Vegan, Doc's Cake Shop, Abu's Bakery, Cornbread, Breukelen Rub, Mac Shack, Lakou Cafe, GG's Fish and Chips, Aunts et Uncles, Brooklyn Sweet Spot, Patsy's Rum Cake, F1RST, Sweet Catch, Branch Patty, 2 Girls & a Cookshop, Fat Fowl, Makina Cafe, Kitchen Time, The Little Hot Dog Wagon, Kit an' Kin, Crème & Cocoa Creamery, Island Pops, Brooklyn Tea, Stay Press'd, Brooklyn Brewed Sorrel, Happy Cork, BEM | books & more, Legacy, Nappy Head Club, Hoop 88 Dreams, Black On Black and more!