3 RITES: Happiness
Thu, Nov 16, 2023
@
6:00 pm
–
Sun, Nov 19, 2023
@
9:00 pm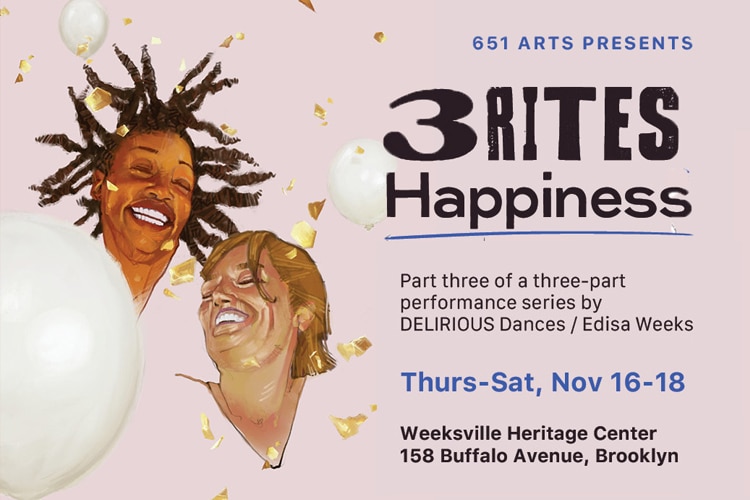 You're invited to join us for 3 RITES: Happiness, the third and final installment of 3 RITES: Life, Liberty, Happiness, a three-part performance series by DELIRIOUS Dances/Edisa Weeks. A celebratory investigation of how laughter and pleasure reside in the body. The "Happiness" rite is about self-care and making time to relax, laugh and recharge for the labor to uphold the values of life, liberty and happiness. Each showing will consist of a Happiness Fête and special performances. The performances will feature four dancers and commissioned music by Nathaniel Braddock, played live by the Occidental Brothers Dance Band International. The rite begins with the Happiness Fête where the audience is invited to engage in a collective celebration of wellness and joy by participating in portrait sketches, massages, Delirious Hair Designs, learning line dances, sharing a meal and more. The Fete is followed by laughtercises, and the performance that culminates in a dance party with the audience. Food will be provided by Chef Lex & Brownsville Community Culinary Center, which provides free, world-class culinary vocational training to Brownsville residents through their culinary training program.
ABOUT 3 RITES 3 RITES: Life, Liberty, Happiness is a trilogy featuring three interactive performance rituals that integrate dance, live music, text, visual installations, community discussions and shared meals to humorously and poignantly interrogate why life, liberty and happiness were included as unalienable rights in the United States Declaration of Independence. 3 RITES explores what the right to life, liberty, and happiness means today, who has access to these rights, and how they manifest in the body.
3 RITES: HAPPINESS – OVERVIEW
Thursday – Saturday November 16-18, 2023
Duration: 3 hours
Location: Weeksville Heritage Center, 158 Buffalo Avenue, Brooklyn, NY 11213
SCHEDULE
Thursday and Friday November 16th and 17th from 6pm – 9:00pm
6pm – 7pm: The Happiness Fête
7pm – 8:30pm: The Performance
Saturday, November 18th (two showings)
1pm – 2pm: The Happiness Fête2pm – 4pm: Performance
6pm – 7:00pm: The Happiness Fête
7pm – 9pm: Performance
"We need a radical revolution of values that rejects the constant, insistent pursuit of doing, and emphasizes making time to be a human being. This involves making time for laughing, loving, resting and recharging; in order to have the energy, vigilance and fortitude to uphold the values of life, liberty and happiness for everyone." — Edisa Weeks
3 RITES is produced by Marýa Wethers and commissioned and presented by 651 ARTS, with co-commissioners Billie Holiday Theater, Kelly Strayhorn Theater, Mount Tremper Arts, and National Performance Network.
By purchasing tickets for this event, you consent to being added to our newsletter mailing list.