Beyond Punishment: Stories of Justice and Healing
Thu, Nov 30, 2023
@
7:00 pm
–
Fri, Dec 1, 2023
@
10:00 pm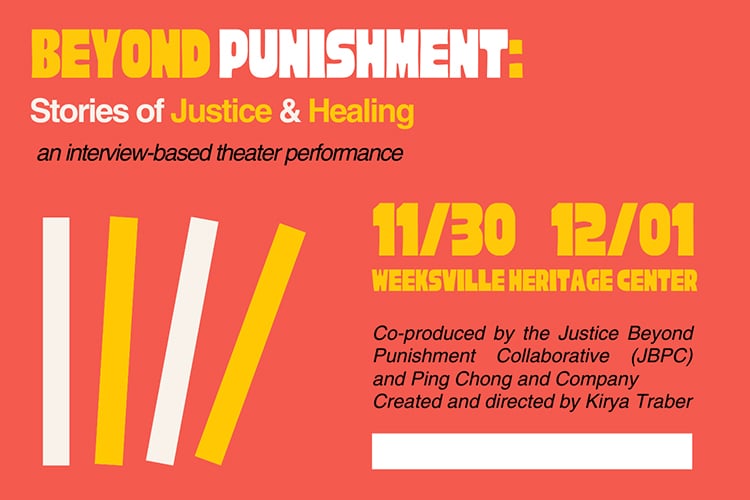 Join us for the world premiere of Beyond Punishment: Stories of Justice and Healing, an original interview-based theater performance, co-produced by the Justice Beyond Punishment Collaborative (JBPC) and Ping Chong and Company! 11/30 and 12/1 at Weeksville Heritage Center. 12/3 at Hi-Arts.
Written and directed by Kirya Traber in collaboration with the performers, Beyond Punishment follows the lives of four remarkable individuals who grapple with the intersections and impacts of interpersonal and state violence. This production, performed by the storytellers themselves, gives insight into their lives, leadership, and healing journeys. Together, their stories encourage us to imagine justice beyond a punitive system that begets further violence.
All performances are free and open to all, and will be presented at and supported by the Weeksville Heritage Center in Crown Heights and Hi-ARTS in East Harlem. Come watch the show, engage in community reflections and a talk-back with the creators, and connect with community organizations and movement partners!
Please be aware that this show will include explicit language and sharing of traumatic stories. Recommended for ages 12+.
Calendar
Thursday 11/30 at 7pm at Weeksville Heritage Center (158 Buffalo Ave, Brooklyn, NY 11213)
Friday 12/1 at 7pm at Weeksville Heritage Center (158 Buffalo Ave, Brooklyn, NY 11213)
Sunday 12/3 at 4pm at Hi-Arts! (215 E 99th St, New York, NY 10029)
Production Background:
For Beyond Punishment: Stories of Justice and Healing, Kirya Traber was invited by JBPC to bring together a group of organizers with lived experience of incarceration to share their own stories in an interview-based theater production. Beyond Punishment was created through interviews and workshops with the cast members. The theatrical format of the presentation is based on and inspired by Ping Chong and Company (PCC)'s Undesirable Elements series of interview-based theater works examining issues of identity, place, and belonging. Each production is made with local partner organizations and local participants telling their own stories on stage. Creator Kirya Traber is a long-time collaborating artist and facilitator in the Undesirable Elements series.
About the producers & creators:
The Justice Beyond Punishment Collaborative (JBPC) is a project of the Columbia Center for Justice with the goal of addressing the intersections of state and interpersonal violence, and strengthening our ideas and approaches to safety and justice that do not rely on punishment, domination, and supremacy. We are working to support our movements in offering compelling and cohesive stories and messaging to end violence, with the goal of realizing a world with justice beyond punishment. Participating organizations include the Center for Constitutional Rights, Community Capacity Development, Common Justice, Girls for Gender Equity, How Our Lives Link Altogether (H.O.L.L.A!), The National Council for Currently and Formerly Incarcerated Women and Girls, Release Aging People in Prison (RAPP), the Surveillance Resistance Lab, and V-Day. The Campaign also includes individual collaborators Charlene Allen, Kathleen Pequeño, and Sharon White-Harrigan. The Collaborative is supported by Trinity Church Wall Street.
Ping Chong and Company (PCC) creates theater and art that reveal beauty, invention, precision, and a commitment to social justice. Originally founded in New York City in 1975, today the company is a highly adaptive and supportive home base for multigenerational, interdisciplinary artists with generative theater practices. The company creates original interdisciplinary, community-specific work; and cultivates artistry through training and education programs. In 2023, following the retirement of Ping Chong the company announced a collaborative five-person Artistic Leadership Team to develop and realize a vision for PCC's future. www.pingchong.org/@pingchongco
Kirya Traber is a writer, performer, and cultural organizer. She was New York Stage and Film's 2020 Founders Award recipient, and Lincoln Center's Community Artist in Residence from 2015-2020. Her work with Ping Chong + Company, Undesirable Elements: Generation NYZ, was a NYTimes Critics Pick in 2018. She received a NY Emmy Nomination in 2018 for her work on First Person PBS. Her debut novel based on her play, Ready or Not, will be published by Dutton Books. She's received a Robert Redford's Sundance Foundation award for Activism in the Arts, a California Governor's Award for Excellence in the Arts, and an Astraea Lesbian Writers Fund award for Poetry.
About the venues:
Weeksville Heritage Center is a historic site and cultural center in Central Brooklyn that uses education, arts and a social justice lens to preserve, document and inspire engagement with the history of Weeksville, one of the largest free Black communities in pre-Civil War America, and the Historic Hunterfly Road Houses. Learn more at weeksvillesociety.org.
Hi-ARTS was founded in 2000 as the Hip-Hop Theater Festival and re-emerged in 2011 as Hi-ARTS. We have been supporting artists for nearly 25 years. Through Artistic Support, Civic Engagement, Public Programming, and Creative Education, we empower Artists of the Global Majority to develop new work while creating a lasting impact on our communities. Learn more at hiartsnyc.org.
______
Accessibility information
Weeksville Heritage Center is located at 158 Buffalo Avenue/Joan Maynard Way, between Bergen Street and St. Marks Avenue. The closest subways are the A/C at Utica Ave., the C at Ralph Ave., or the 3/4 at Crown Heights-Utica Ave., or the B46/15/65/47 buses.
Hi-ARTS is located in the lower level of El Barrio's Artspace PS109 at 215 East 99th St. The closest subways are the 96th 4/6/Q trains or the M96/M101/M102/M103 buses.
Both venues are fully ADA accessible. Please contact us with any questions or additional accommodation requests at: tweiner@ggenyc.org