Juneteenth Food Festival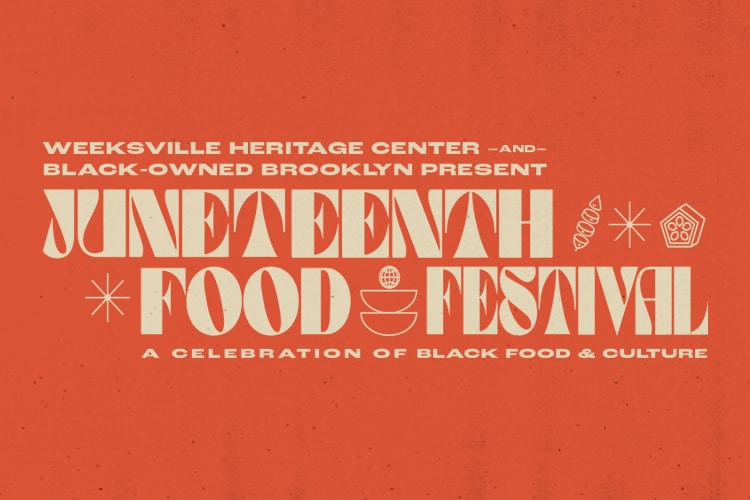 Food has been a part of Juneteenth since the holiday was first observed on June 19, 1866 — one year after Union Army Maj. Gen. Gordon Granger arrived in Galveston and announced the emancipation of Black people in Texas, one of the last groups of enslaved people in the U.S. to be freed. Black Texans gathered to celebrate a year of freedom with music and food, over time creating annual Juneteenth traditions including red foods (strawberry soda, red beans and rice, red velvet cake, watermelon) and barbecue.
With Juneteenth now recognized as a federal holiday, our Juneteenth Food Festival on June 18-19 honors the past while creating new traditions in our present.
Produced by Weeksville Heritage Center and Jummy's Picks by Black-Owned Brooklyn, this event was designed to reflect the breadth of Black Brooklyn, with 20 Black food vendors offering cuisine from across the African Diaspora, including regions of the United States, Africa, the Caribbean and Latin America.
The festival will take place on the grounds of Weeksville Heritage Center, a historic site in the African-American fight for freedom as one of the largest free Black communities in pre-Civil War America and home to many abolitionist leaders. The event will also feature a marketplace of Black-owned cultural goods, educational activities and performances, as well as sets from a lineup of all-Black queer and trans DJs curated by Papi Juice (6/18) and the legendary Soul Summit collective spinning house and club classics (6/19).
---
Featuring: Cornbread Farm to Soul; The Real Mothershuckers; DaleView Biscuits and Beer; Department of Culture Brooklyn; Kelewele; Lakou Cafe; Two Girls & a Cookshop; Greedi Vegan; Branch Patty; Breukelen Rub; Mac Shack; Makina Cafe; Patsy's Rum Cake; Crème & Cocoa Creamery Sol Sips; Brooklyn Sweet Spot; Cantave De Saint Marc; Brooklyn Tea; Brooklyn Brewed Sorrel; Shaquanda's Hot Pepper Sauce; Happy Cork; NAPPY HEAD CLUB; Legacy Dumbo; Hoop 88 Dreams; Adanne Bookstore; Black On Black; Koku Butter, Public Assistants; and more!
Event Details
Sat,Jun 18, 2022
@
12:00 pm
–
Sun,Jun 19, 2022
@
7:00 pm
Weeksville Heritage Center
158 Buffalo AvenueBrooklyn, NY 11213 (map)
THE RESPONSE FOR THE JUNETEENTH FOOD FESTIVAL HAS BEEN HUGE! WE CAN NO LONGER ACCEPT RSVPS DUE TO SPACE LIMITATIONS. HOWEVER, THIS IS A FREE EVENT, AND ADMISSION WILL BE ON A FIRST COME, FIRST SERVE BASIS.
PLEASE NOTE: THERE MIGHT BE DELAYS ACCESSING THE EVENT SITE IF WE REACH MAXIMUM CAPACITY.