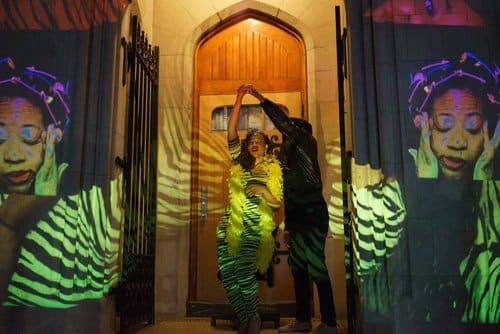 Cash Rules Everything Around Me: So let's start a got damn revolution
By Ayana Evans
Brooklyn-based performance artist Ayana Evans presents a site-specific, public art project on Weeksville Heritage Center's campus beginning in April. The installation––a series of videos with images from Ayana's performance archive combined with text highlighting statistics on mass incarceration and economic inequality in New York City––will be projected into Weeksville's Arts, Culture, and Education Building's exterior windows. The exhibition is designed to be visible to evening passersby and those waiting at the bus stop directly across from Weeskville's main entrance. The projection project is part Evans' ongoing performance series, I just came here to find a husband… and start a got damn revolution.
This project is presented in conjunction with Something Like Freedom, Weeksville's season-long inquiry exploring different abolition practices and how they relate to our local communities and histories.
Exhibition Dates
APRIL 9 – MAY 15, 2022
---
JOIN US ON WEDNESDAY, APRIL 27TH FROM 5–8:30PM FOR AN OPEN STUDIO EVENT WITH AYANA EVANS. MORE INFO.
---
The installation's opening will be celebrated by C.R.E.A.M.: A career fair for more than just survival, which is guided by the question: What would happen if a career fair was more like a block party? The program, held on April 9, 2022, brings to life the theme's exhibition, allowing fantasy and fun to reign over traditional standards of "professionalism" as a way to make a welcoming space for Black, Brown, queer, and trans youth, as well as formerly incarcerated or court-involved groups. READ MORE ABOUT THIS NON-TRADITIONAL CAREER FAIR, HERE.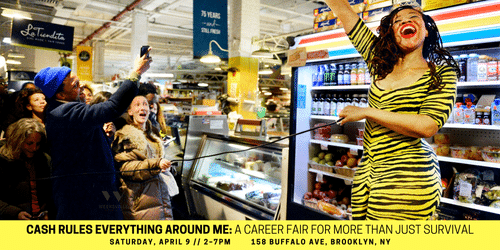 ---
Artwork and programming concepts created by Ayana Evans in partnership with Weeksville Heritage Center. Organized by Isabelle Hui Saldaña, Creative Programs and Partnerships Manager, with Jessica Georges, Programs Coordinator; Aisha White, Guest Production Manager; and Dr. Raymond Codrington, President & CEO. This exhibition and related programs are supported with funding from the Shelley & Donald Rubin Foundation, the Jerome Foundation, and the New York City Department of Cultural Affairs.
Special thanks to members of the artist team, including:
Ayana Evans, Artist
Aisha White, Production Manager
Kim Doan Quoc, Projection Designer
Emily Finch, Artist Assistant
Emilia Peters, Banner Designer
Everett Arthur, Installation Technician
Jayel Gant, Projector Technician
Susana Kwon, Projector Technician
As well as additional Weeksville Heritage staff, whose labor makes this project possible:
Chris Clements, Facilities Manager
Reginald Glenn, Assistant Facilities Manager
Tony Thompson, Facilities Support
Anita Romero Warren, Deputy Director
Tatiana Lammie, Visitor Services Coordinator
Marc Williams, Security
Pamela Tetteh, Program Intern
Jenny Thomas, Program Intern
Cash Rules Everything Around Me: So let's start a gotdamn revolution may be viewed outdoors after sunset or indoors during Weeksville Heritage Center's business hours. Masks are required indoors for all visitors. More information about Weeksville Heritage Center's commitment to community safety and health is available HERE.